If your looking for a versatile, affordable, easy to use system that can potentially generate you some residual income.
Then continue reading…..
You're going to learn the pros and cons about this system, been promoting it personally for about 1 month now and there are some awesome things about it and some things that could be better.
---
The prosperity marketing system helps people build there email list and helps them earn residual and one time commissions from the system and from building your traffic source downlines as well as having the ability to email your subscribers via w.e autoresponder you end up integrating in the system.
Core Features
– Can Promote Your Primary Business Within The System ( Your Referrals Will See This Link Under The Their Primary Business Tab) Powerful
– Integrate Your Auto responder Via Api
– The Funnel, Have An Auto Follow Up Email Sequence ( If Your Referrals Don't Become Paid Members You Can Recommend Something else Which Will Be In The Last Email )
– Multiple Income Streams – Front End, Back End, Traffic Downlines & Emailing Your List
– Referral Mechanic –  You Earn 100% Commissions On All Sales Except Your 2nd and 4th Which Are Passed To Your Upline. But When Those 2 Pass Ups Refer Their 2nd and 4th Those 2 Commissions Are Passed To You….
Pros
Affordable

Customizable

Easy To Use

Free Trial

Auto responder Api Integration ( Autoresponder recommendation is Mailerlite )

Build Your Downlines On Your Favorite Traffic Sources

2 Up Referral Mechanic

Accepts – Payza, Bitcoin & Credit Card
Cons
Traffic Training Section Is Not Useful

I Had Issues With Subscription ( Should Be Fixed Now Though )

100% Commissions  – But Minus Processing Fees

The Landing Page/Splash Builder Is Kind of Confusing ( There Are Tutorials Though)
Price You Have To Pay
After the free trial is over you will pay $12/m, which is not that bad considering the features it offers.
The personal branding add-on is one time payment of $97 which allows you to insert your current business your already promoting and have your referrals potentially join under you in that business as well.
The good thing is if you don't get the add-on you can still earn 100% commissions from that if one of your referrals buys it…win win situation
Conclusion
I give this system/funnel a thumbs up, its not a scam and it does work if you put the work into it on driving traffic to your affiliate link. If you don't know how to drive traffic, than would recommend you learn this first before joining the prosperity marketing system.
Click The Image To

Start Your Trial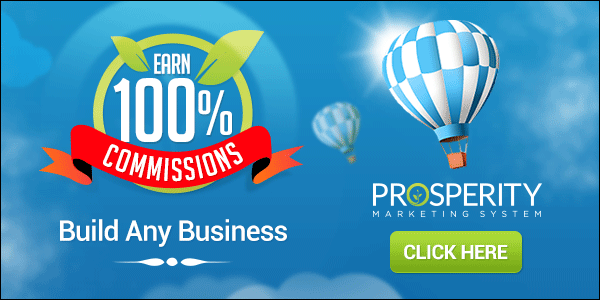 The following two tabs change content below.
Jordan Turner
I'm Jordan and really enjoy writing and providing people with content that hopefully helps them. I'm also the owner of this blog and really hope you enjoy it.
Latest posts by Jordan Turner (see all)